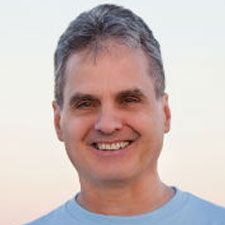 Alan Franzi MS, C-IAYT, 
Alan Franzi MS, C-IAYT, PAS, brings over 25 years of experience providing individual and group yoga classes and individualized therapeutic posture and movement sessions in the Guilford, Madison, and New Haven shoreline of Connecticut.
Over the years, Alan has adapted and evolved his personal practices and teaching to meet the changing needs of body and mind throughout life's changing circumstances and phases. From this, he has learned that growth and well-being are possible for everyone at any age. This inspires his dedication to share these insights in his teaching.
Alan's group classes and therapy programs blend classic and modern yoga, meditation, and somatic movement practices. This allows him to help people with a wide range of needs, from improving flexibility and fitness to reducing stress and managing pain.
Alan's extensive background in movement therapy, combined with his experience working with doctors and other healthcare professionals, ensures that he can provide personalized care that meets the specific needs of each individual. Whether you're looking for a general fitness boost or targeted relief from pain, Alan can help you achieve your goals.
Alan's teaching style is focused on self-acceptance and fun. He creates a judgment-free environment where his students can explore and evolve towards flexibility, tone, stress relief, and overall fitness and wellness goals. As his students often comment, his teaching and its results are sometimes subtle. This subtlety and depth give it its unique power to offer the possibility of an even more comprehensive range of fitness and wellness benefits than imagined.
Alan's passion for helping others is evident in his specialized therapy and class programs for people with chronic pain and other musculoskeletal problems. His "Pain-Free Posture" therapy work helps people address and resolve the root cause of their pain so they can get on the path to a more pain-free and rewarding life.
Alan's formal credentials include being a Certified Yoga Therapist (C-IAYT) through the International Association of Yoga Therapists. He is a Certified Posture Alignment Specialist (PAS), trained by the Egoscue Institute, and a Level 3 Somatic Movement Center® Certified Exercise Instructor. He is certified trained in Sivananda Yoga, Kundalini Yoga, and Integrative Yoga Therapy, with continuing advanced study and practice of the Egoscue Method, Somatic Movement Education practices, Feldenkrais® and Somatic-influenced Yoga, and Mindfulness Meditation and Stress Management Techniques.