Getting started with online yoga and movement classes with zoom
"Four of our classes will be held in-studio as they are being streamed online in the "Hybrid Class" model. They are indicated as such on our Yoga and Movement Class Schedule. These hybrid classes allow students a choice of continuing to work out of the comfort home or vacation hotspot😊 or getting back to in-person instruction.
Presently, the Tuesday 6pm and Wednesday 9:30am and 6pm Yoga Basics classes as well as the Saturday 9:30am Yoga & Functional Movement for Posture Alignment class are being done in this hybrid way.
For online attendance, set up your physical space in your home or remote location to make sure the area is safely clear of objects that get in the way of safe movement in and out of poses, etc. Train the camera of your computer, tablet or phone at the space you have set up. For more privacy, some choose to keep the camera off during the class.
Basic props are optional and can include a Yoga mat, 1 (or 2) Yoga blocks or pillows, a belt or strap, and a blanket or cushion for seated meditation. Modifications in poses can be substituted for props in most cases.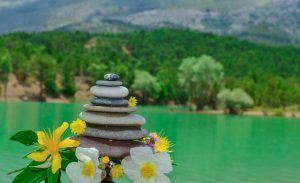 Contact us so we can answer any questions about how you can start now to enjoy Yoga in the comfort of your home or come visit us in-studio for our hybrid classes. Call Alan via phone at 203-488-1700 or email at alan@creativeeedgeyoga.com for information and/or to register.
We are here to help you through the challenges that come with trying new things. For a general understanding of how to use Zoom Meeting. The tutorial is available here. We are here to answer specific questions and guide you if challenges arise.
You join a class by simply clicking on the link given on the schedule underneath the class and follow the prompts. For that reason we suggest those new to the these classes arrive to 10-15 minutes before classes are scheduled to begin so we can help you get comfortable with the process and handle any concerns that arise before class begins.
*** If there are financial concerns, you prefer other options to participate , or wish to contact me for any reason please call me at 203.488.1700 or email me at alan@creativeedgeyoga.com so we can work together for a solution.